Denim, my current love affair
"oh no girl, look at that bulge this one is giving you"
"ok just jump up one more time, squeeze tight, and you can make it in this pair tonight"
"ok these are a bit too baggy, but this doesn't go past my hips, oh goodness, my life."
"You know what, where are those leggings? I am just too fat for jeans,
leggings and a sweater will do for today."
These are all the things I would say to myself, when trying on a pair of jeans. I was never comfortable, hated how I looked in a pair of jeans and would settle on leggings.
Leggings was sort of a uniform for me in college. Leggings paired with a hoodie, or leggings paired with a shirt and blazer, but I never would pair any of these with jeans. However, I told myself that in 2016, I would definitely add more denim to my wardrobe.
I needed to remove the idea that with my body I would not find a pair of jeans that would make me feel comfortable and sexy.
I needed to stop using my body as an excuse as to why I never liked what I wore.
I needed to stop using my body as my own restriction.
I remembered saying this to myself:
STOP ALLOWING YOUR BODY AND SHAPE TO BE YOUR ONLY EXCUSE.
(maybe you just need the right size ,find the right store)
BECAUSE FASHION DOES NOT LIMIT SIZE, SHAPE,
HEIGHT, AND OR COLOR.
We set our own limits for some strange reason.
Not knowing we are limiting ourselves from something greater than we can imagine.....
(Yes, fashion can be that great)
During my search for my perfect denim for body and I stumbled across Fashion To Figure. Fashion to Figure is a retailer that offers a great selection of clothing from sizes 12-26. With my recent discovery they offer great denim as well!!!
Their denim stretches, which is always a plus for me. The styles are cute, and can be paired with anything to create a casual or a classy look. But most importantly they are COMFORTABLE.
I paired my denim with a peplum top, with mesh sleeves also from Fashion to Figure.
Right now Fashion To Figure is having a special on their denim, buy one denim and a get the second pair for $10!!! If that is not a steal then I don't know what is.
I love this look because of how I felt. I felt comfortable, sexy and most importantly confident. And this is a feeling every woman should feel when they get dressed. How you feel is what makes the outfit!
Thanks to Fashion to Figure, denim is my current love affair.
Look out for another post soon on another pair of denim from Fashion to Figure,
and how I styled it for a casual look.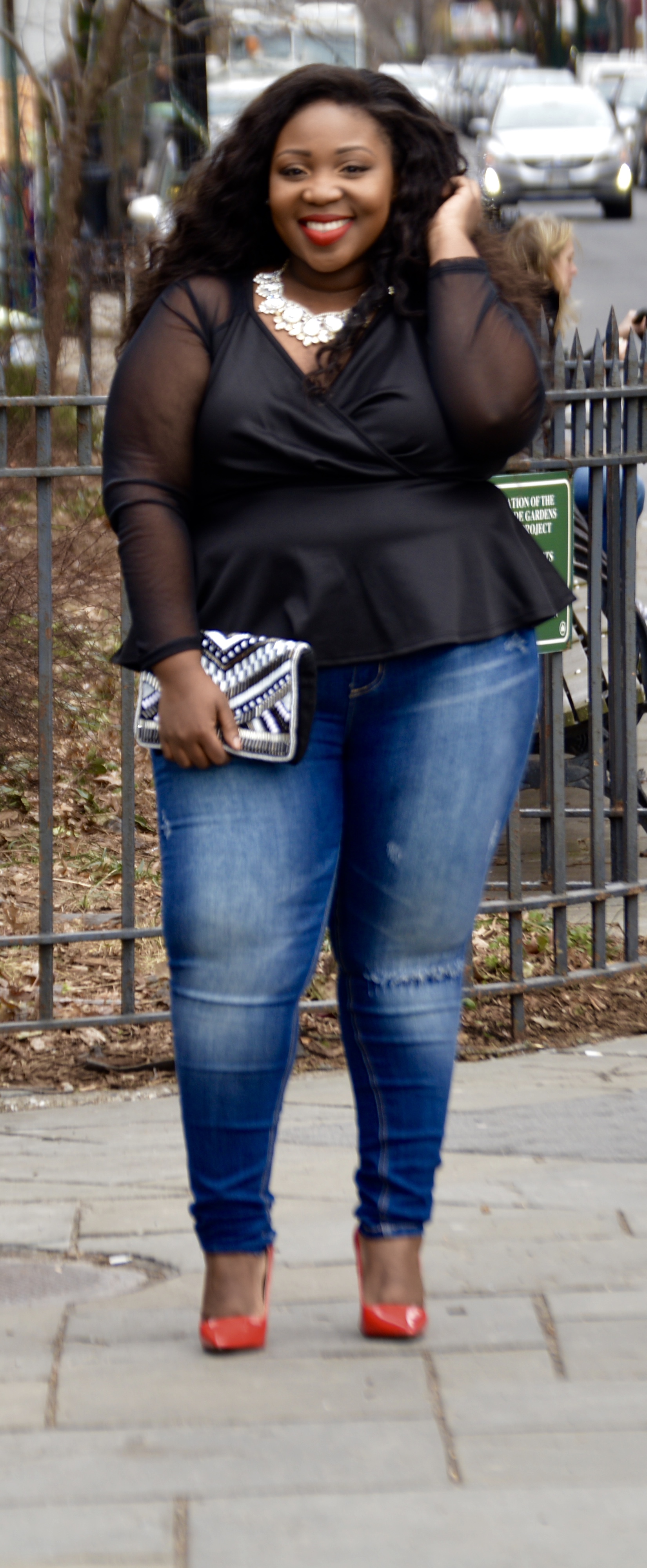 Top and denim- Fashion To Figure
Shoes: Steve Madden
Clutch: H&M from last year
Necklace: Rebdolls
Thanks for stopping by!!!
XOXOXOXOXOOOO